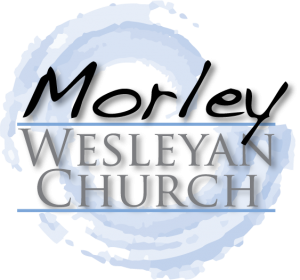 Loving God
Loving People
Transforming Community
It is our heart's desire to be loving our community and our neighbors as Jesus has shown His love to us.
Join us for Evening Service on
Sunday Nights for a New Series June 3rd @ 6 p.m.
FREE Community Meal May 16th

We will be serving a Macaroni & Cheese!
See You Then!!

VBS Coming Soon!


This Summer we will Once Again be Hosting VBS! Come on out July 23-27!
Sunday School 9:15 a.m.
Worship Service 10:30a.m.
Children's Church 10:30 a.m.
Bible Study: Sunday 6 p.m.
Small Group: Thursday 6:30 p.m.
We Invite You
to Visit Us!

2018 Challenge... For four Sundays in a row, we challenge you to attend Morley Wesleyan Church with an open heart and mind and then after the

four

weeks schedule a time to meet with the pastor and talk about what has occurred in those four weeks over dinner (his treat) just save your

four

bulletins... it will be a blessing!
Save the Date!


You're Invited to our 175th Celebration of Ministry at Morley!
On September 23, 2018 we invite you to worship with us!
Our goal is to have
175 people in service that Sunday Morning!
Firefighter Appreciation Sunday

A tremendous thank you for the men and women of Morley Fire Department! Thank you for all you do for our community!